ACRO HOLIDAYS in South of Spain
23 to 30 July 2019
Come and join us for a week of Acro Holidays nourshing ourselves with Yoga, AcroYoga, massages, veggie meals, pool, sun and beach in a gorgeous house in Sotogrande (Cádiz)!
A unique opportunity to connect with wonderful people, create community and share!
Mindful eating, learning about small steps to have a healthier and more aware relationship with food.
Enjoying the benefits of training, getting stronger, healthier, in the physical body but at the same time, connecting in a deeper level and sharing your practice with other incredible human beings.
Daily vegan homemade food, with love, positive energy, and respecting the environment (local and plantbased)
We will connect with nature, practicing outdoors Yoga every morning with Alicia Moldes, and having 1/2 workshops daily of AcroYoga practice, therapeutic flying, thai Massage and wuo tai with Sandra de San José. We will also enjoy the nearby beach some of the mornings and evenings, and we will also have plenty of time to chill by the pool or jam in the beautiful gardens with the mountain views! You will also have many options of enyoing the beach as kayaking and canoening.
Accommodation:
House: 8 spots in double rooms: 1 queen size bed room and 3 twin rooms
Camping: Bring your tent and camp!
We also offer 2 spots in sofas (at same price that camping)
The house has big gardens, amazing views, sauna and pool.
Teachers:
Alicia Moldes
Sandra de San José
Daily Program:
Arrival: tuesday 23rd july from 16:00
18:00 welcome ceremony
19:00 Games
20:30 welcome dinner
Every Day:
8:00 – 9:00 Yoga
9:00 – 10:00 Breakfast
10:30 – 13:30 Workshops / Beach
14:00 Lunch
16:00/17:00 – 20:00 Evening workshops / pool / beach / jam
Free dinner
AcroHolidays will be finished on tuesday 30th july after lunch
Some days we will have morning workshop and beach/pool/jam in the evening, or morning workshop and evening workshop like massage/therapeutic flying or free morning (beach/pool) and evening workshop.
Activities: Yoga every morning, AcroYoga workshops (for all levels), Therapeutic Flying (for all levels), Thai Massage, Wuo Tai, Nutrition Workshop, Meditation.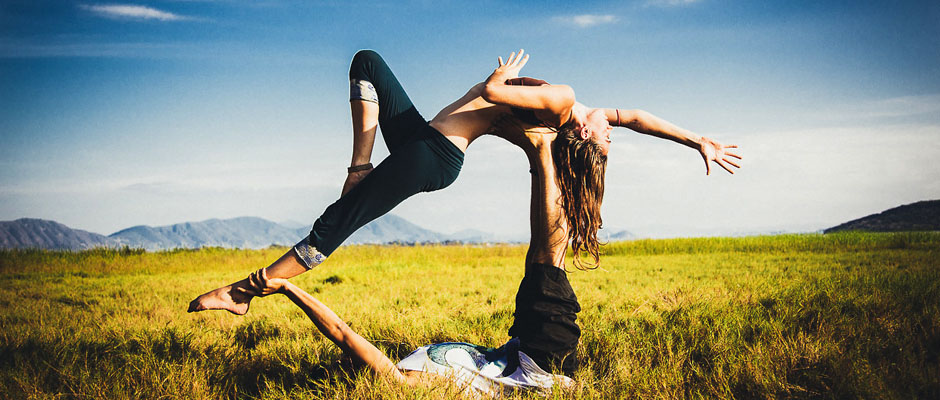 Prices:
Whole Week:
bedroom: 810€ / 760€ early bird*
camping: 600€ / 550€ early bird*
Price includes breakfast and lunch every day, dinner of first night, all activities in the program and accommodation for 7 nights.
Per day:
bedroom: ask if its available for less than 7 nights in the moment of registration
camping: 120€ / 100€ early bird* (ask for discount if staying more than 3 nights)
*Early Bird until 1st june 2019.
Breakfast: bread, oats, fruits, tea and coffee.
Lunch: Vegan dish
For the dinner you can cook at the house (refrigerator and kitchen available) or have dinner outside.
Registrations:
Fill in this form –> SAVE YOUR SPOT HERE!
Location:
Sotogrande, Cádiz, Spain
Contact us for any question:
sandra@acroyoga.org